127 Prisoners of War and One Pair of Shorts
Can you help us give life to these 127 World War II soldiers and the story of the pair of shorts?
Tymbakion shorts project by Andrew Holyoake NZ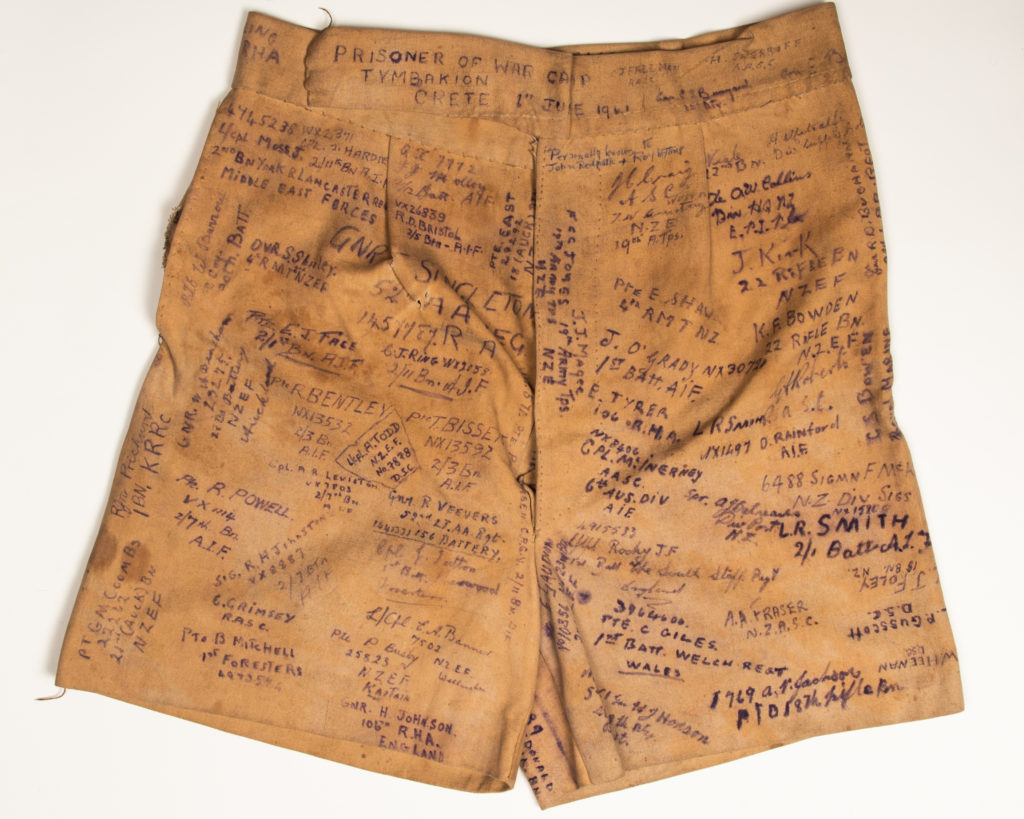 A pair of shorts professionally crafted was brought back from WWII by Private Albert (Bert) Edward Chamberlain. As a civilian he was a tailor and would have had little trouble turning a sheet of canvas into a pair of shorts. Bert was a driver in the 2NZEF and was captured in Crete sometime in 1941.
In the later months of 1941, the Luftwaffe set about developing an airfield in the south of Crete, close to the town of Tymbaki (Tympaki). This airfield, Tymbakion, still exists today. An Allied Air Intelligence report from 1943 suggests that the airfield was developed rapidly in the autumn of 1941 by utilising British and Greek POW labour gangs, who worked day and night. We think Bert was one of the men who was working on this aerodrome as a Prisoner of War.
At the beginning of 1942 Bert and others were shipped off to Germany and spent most of the remaining war years interred at Stalag VIIIB, Lamsdorf (also known as 344). He survived the war, returning home to New Zealand.
The shorts contain the signed names of 127 men. A couple of men, whose names appear on the inside rim of the shorts are men whom Bert was friends with at Lamsdorf. The others, however, in addition to the inscription "Prisoner of War Camp Tymbakion Crete" are an enigma.
One of the aims of this project is to find out if these shorts represent a partial list of those Allied and Greek POWs who laboured to build the Tymbakion airfield in late 1941. We are seeking evidence from written anecdotes and diaries, in addition to compiling circumstantial evidence, for example:
Within the Australian Red Cross POW cards that are held in a University of Melbourne Archive there are a few references of Australian POWs sending mail home from a camp at Tymbakion in September 1941. The majority (but not all) of these men's names are on the shorts. www.archives.unimelb.edu.au
The majority of allied POWs captured on Crete around 1 June 1941 seemed to have been shipped to mainland Europe by August or September, 1941. We are looking for any information about these men and the dates they were transported from Crete.
Below is a list of the men from the shorts, that we have basic information on, who may have been involved at Tymbakion (excluding those who were Bert's friends at Stalag VIIIB, Lamsdorf (also known as 344). The names are arranged alphabetically in the following format: (surname, initials or first name, service number, POW number, country of service).
There are a few other names on the shorts that we are still working on.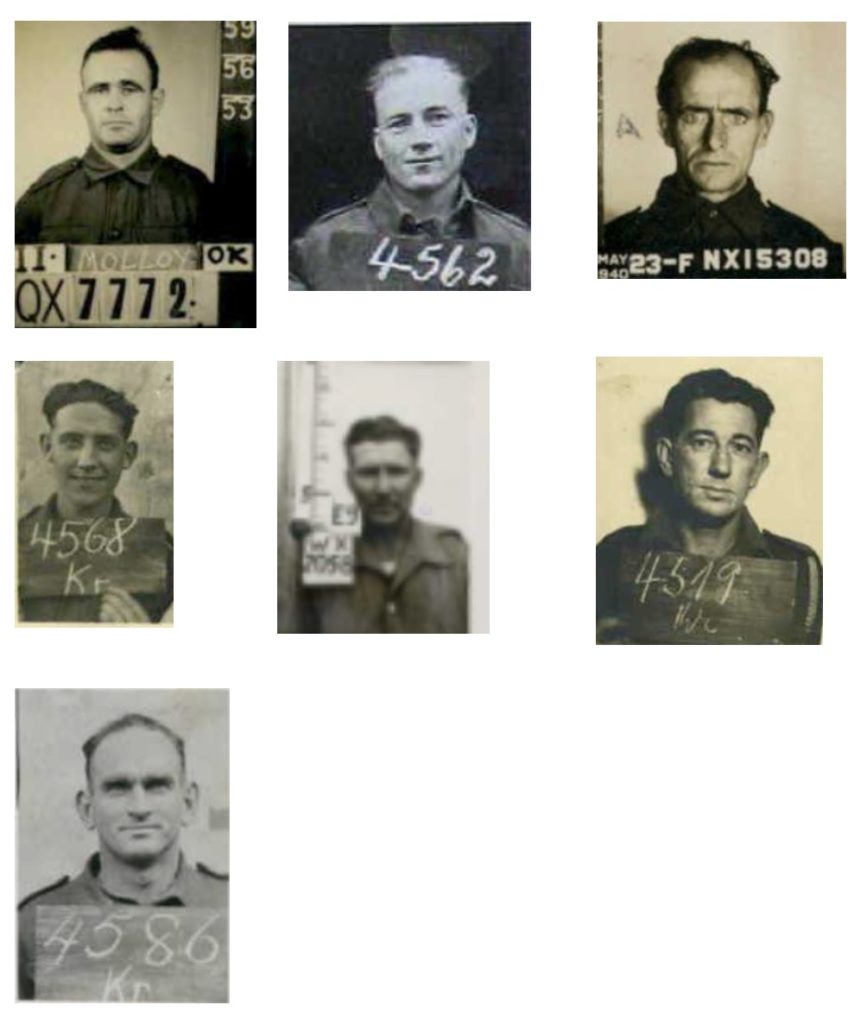 From top left to right top to bottom:
Molloy, John Joseph, QX7772, 4603, Australia
Buirchell, William Roy, WX2280, 4562, Australia
Smith, Loris Richard, NX15308, 4521, Australia
Leviston, Aubrey Reginald, VX7803, 4568, Australia
Ring, Cyril WX2058 Australia
McInerney, John Patrick, NX8406, 4519, Australia
West, Leonard Gordon, VX5561, 4586, Australia
Main List Below
Ainsley, John, R, 105991, 4556, England
Armitage, Thomas Washer, 33221, 5252, Sapper NZ Engineers,New Zealand
Baker, Edward, 2065377, 4596, England
Banner, Ernest Ambrose, 7502, 5012, New Zealand
Barnes, Harry Holcroft, NX32898, 4534, Australia
Barrow, William, 14244, 5458, New Zealand
Beacham, William Albert, 23275, 5227, New Zealand
Bennison, Avery Francis, 5353, 5350, New Zealand
Bentley, Reginald Guy Arthur, NX13532, 4549, Australia
Bissett, Thomas Alexander, NX13592, 4546, Australia
Bowden, Kenneth Frank, 30242, New Zealand
Bowen, George Stanley, CH/X101376, 4606, England
Bristol, Reginald David, VX26839, 4512, Australia
Brodie, Charles William, 13803, 23552, New Zealand
Brown, George Robert William, 2393, 5441, New Zealand
Brown, Norman McLeod, VX31518, 4559, Australia
Brownlie, Robert Bould, 4446, 5409, New Zealand
Buchanan, Roy Douglas, VX32961, 4607, Australia
Buirchell, William Roy, WX2280, 4562, Australia
Bunyard, Claud Stewart, 865679, 4604
Busby, Ponaute, 25823, 5443,28th Maori Battalion, New Zealand
Carter, Edward S, S/94334, 4560, England
Chappell, Ronald John, 7347150, 4510, England
Christiansen, Harold (Harry) Anthony, 30695, 5419, NZ Petrol Company,New Zealand
Collins, Andrew Walter, 5721, 24196, 2 Divisional Employment Platoon,New Zealand
Coombs, Gordon Maxwell, 22262, 5082, 21st Battalion,New Zealand
Cooper, Charles George, 5566, 5164,19th Battalion, New Zealand
Cooper, Hans John, 7347238, 4509, England
Craig, James Colvin, 34623, 4602, New Zealand
Crawford, J, 408857, 4578, England
Davenport, Joseph, 7259305, 4555, England
Davis, J. R, England
East, Edward, 29292, 5201, New Zealand
Face, Edward John Sydney, NX11441, 4585, Australia
Foley, Zamoni James Joseph, 2996, 5200, New Zealand
Forbes, Archibald Henry, 6912, 4511,30th Battery NZ Artillery, New Zealand
Foxon, T.V, 890183, 4582, England
Fraser, Anthony Alexander, 30024, 5417, New Zealand
Freeman, Clifford James, 148521, 4545, England
Gaudion, Eric John Robertson, 10356, 5203, New Zealand
Giles, C, 3964606, 4530, Wales
Goodwin, Edgar G, 1428576, 4565, England
Gorton, John, T/190420, 4544, England
Grimsey, Cyril James G, 148404, 4516, England
Gusscott, Louis Patrick, 33096, 5017, New Zealand
Hardie, Ian Alexander, WX2371, 4507, Australia
Harman, Geoffrey Bertrand, 4321, 5396, New Zealand
Harrington, Stanley Richard, 32257, 5412, New Zealand
Hastie, Alexander Brown, 33750, 5257, New Zealand
Heenan, Colin William, 8571, 5411, New Zealand
Herbert, Cyril M, S/154217, 4539, England
Hewett, Arthur, 2197321, 4576, England
Hodson, Herbert Joseph, 20661, 5437, New Zealand
Holmes, Howard John, 37054, 5119, New Zealand
Holt, Walter Gerald, NX12348, 4501, Australia
Howes, George Richard, NX2918, 4580, Australia
Hurren, Frederick Henry, S/94377, 4504, England
Jackson, Alexander Peter, 1769, 5424, New Zealand
Johnson, Henry, 888099, 4563, England
Johnstone, Robert Aitcheson, VX8887, 4550, Australia
Jones, Frederick Cyril Charles, 34810, 5302, New Zealand
Kirk, James, 30071, 4593, New Zealand
Kollias, Anastasios, Greece
Lechmere, R.J, T/203874, 4616, England
Leviston, Aubrey Reginald, VX7803, 4568, Australia
Lythgoe, Frederick (AKA Rocky), 4915533, 4547, England
Magee, John James, 32086, 5496, New Zealand
McDonald, Leonard Edwin, 22289, 4566, New Zealand
McInerney, John Patrick, NX8406, 4519, Australia
McKain, Frederick James Dunmore, 6488, 4520, New Zealand
McLean, Alexander, 7902927, 4506, England
Miller, John Walter, 7527, 4608, New Zealand
Mitchell, Bernard, 4973574, 4573, England
Molloy, John Joseph, QX7772, 4603, Australia
Moss, John, 4745238, 4536, England
Neale, Roy Errol, 5736, New Zealand
Nuttall, James, 902868, 4522, England
O'Grady, James Clyde, NX30721, 4597, Australia
Osborn, J.J, 6898510, 4595, England
Palmer, T.G.W, 7347235, 4526, England
Pearce, Sydney Emden, NX33248, 4518, Australia
Pedersen, Walter Vernon, VX5571, 4515, Australia
Pestell, R.G, T/73338, 4528, England
Petersen, Charles Amos George (Vic), WX571, 4538, Australia
Petrou, Ioannis, Greece
Pooley, A.E, 210653, 4583, England
Powell, Ray Edward, VX1114, 4569, Australia
Prichard, Jack H, 6849702, 4600, England
Pullenayagam, Joseph Patrick, 7297, Sri Lanka
Pyatt, E, T/182533, 4558, England
Rainford, Douglas, NX1497, 4601, Australia
Rattenbury, John Alfred, NX6877, 5331, Australia
Rees, Edward, 13237, 4591, New Zealand
Rice, F.J, T/117358, 4594, England
Ring, Cyril James, WX2058, 4540, Australia
Roberts, G.A, 132569, 4615, England
Rogers, J, 148797, 4557, England
Shaw, Ernest, 8613, 4525, New Zealand
Sherriff, Harold, 10670180, 4502, England
Shirley, Stanley, 9036, 4533, New Zealand
Singleton, Jack, 1457787, 4537, England
Skinner, J.E, 218039, 4542, England
Smith, Loris Richard, NX15308, 4521, Australia
Stirling, Leslie Douglas, 6846877, 4517, England
Stratton, Herbert Ernest, WX547, 4561, Australia
Stubbs, Arthur Gordon, 4379, 5508, New Zealand
Stuckey, John Edward, NX11243, 4567, Australia
Tatton, John Thomas, 4973903, 4571, England
Thompson, J, P/SSX20790, 4551, England
Todd, Arthur Skuse, 7272, 7878, New Zealand
Topia, William, 22724, New Zealand
Tyrer, E, 905373, 4579, England
Veevers, R, 1441331, 4552, England
Walker, D.A, T/111909, 4572, England
Walters, F, CH/X3473, 4543, England
Warburton, H, 1058195, 4554, England
Weatherall, William, 862968, 4535, England
West, Leonard Gordon, VX5561, 4586, Australia
Whatling, Clive Joy, 902385, 4599, England
Whitcombe, John Douglas, 22768, 4605, New Zealand
Woods, Laurience Samuel, WX443, 4564, Australia
Wynn, Thomas Peter, 898637, 4577, England
If you recognize any names on this list, and can help with this, please make contact with us at Tymbakionshortsproject@gmail.com
Andrew Holyoake (New Zealand), Tony and Deb Buirchell (Australia).
Thanks to Mike Smythe for hosting this search, and to Mitchell Adair for the photography.
UPDATE 2/08/21
Tony and Deb Buirchell have been inundated by interested people whose relations were in the Australian Military Forces who fought on Crete. Over 25 replies were received as a reaction to three advertisements in the local Western Australian newspaper in a section called 'Can we Help You".
The main questions the Project is hoping to answer are:
1. Who made the canvas shorts and where were they made?
2. Where were the canvas shorts signed?
3. What was Tymbakion?
4. What do we know about the men who signed the canvas shorts?
A comprehensive diary by Charles (Vic) Petersen, WX571 came to light thanks to Sue and Grant Petersen. It covers every day of Vic's incarceration from June 6th, 1941 to his release from a POW camp in 1945
Another diary kept by Ian Alexander Hardie WX2371 is being followed up thanks to Ian's two daughters Helen and Janet.
From the Vic Petersen diary it has been found that what may be the final group of allied POWs left in Crete were rounded up on 11th September, 1941 and embarked on the ship Norburg in Souda Bay. The men were taken to Iraklion before being sent in trucks over the mountains to the southern side of Crete. Here they were imprisoned at a place near the town of Tympaki.
A study of the Army Records and Red Cross Cards for all the Australian signatories on the shorts showed that Tymbakion was mentioned 18 times leading to a possible place where all the men on the shorts may have been together.
Vic talks to being forced to pull out ancient olive trees to make an aerodrome runway. After four months the men were taken by truck to Souda Bay. From here they sailed to Salonika and then put on trains to a range of Stalags in Germany and Poland.
The answers to the original questions are somewhere in these movements. The search goes on, can you help?
If you recognize any names on this list, and can help with this, please make contact with us at Tymbakionshortsproject@gmail.com